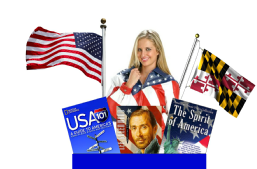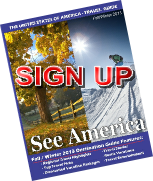 - The United States Destination Marketing Agency -



Book Travel Visit Places Discover America See More America

Hotels

Rental Cars

Airline Flights

US National Parks

Top American State Parks

50 States & Great Cities

America's Top 100 List

Great Small Towns in America

Favorite Art Towns in America

Roadside America Highlights

Uniquely America

Rustic Vacation Packages

US Travel Deals & Bargains

America's Great Outdoors

America Minute - Video History Segments








BEST HOTEL RESEARCH - Select your interest
Hotel Guide by State Top US Destinations US Attractions US Points of Interest Destination Guides 2015 USA Holidays Calendar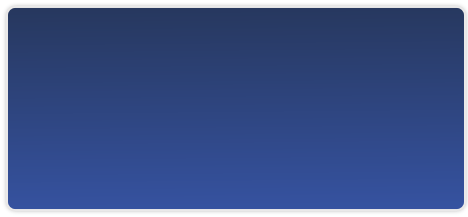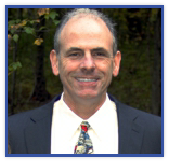 Peter F Smith - Founder

America The Beautiful.com










Discover Appalachia – West Virginia

West Virginia is a wondrous state that is situated in what is known as being the Appalachian Region of the Southern United States. West Virginia became an actual state following the Wheeling Conventions and was officially admitted to the Union on June 20, 1863. However, with the onset of the Civil War, it broke away from Virginia. During the American Civil War, it was looked on as being one of the key border states. The other distinction which West Virginia has is being, the only American state, to form as a result of breaking off from a Confederate state.

West Virginia is commonly called Appalachia and Appalachia refers to a popular cultural region that makes up the eastern United States. This region extends from the Southern Tier of New York State to the northern areas of Alabama, Mississippi, and Georgia. Appalachia only applies to the central and southern part of the Appalachian Mountains range. This region in particular is the home of twenty-three million people as of 2005.
West Virginia is renowned for its mountains and its very different kinds of lands. It is also known for logging, coal mining, as well as political and labor history. It is also commonly defined simply as "Appalachia". So, with this in mind, come and discover the beauty of Appalachia up close and personal. This state is noted for being very diverse and offers a wide range of outdoor recreational opportunities that include everything from trout water fishing to whitewater rafting to hiking to backpacking to skiing to beyond. You name it.... West Virginia can make it possible from an outdoor activity perspective.
Because of the fact that West Virginia is largely mountainous, it is has been given lots of nicknames, some of which do include The Mountain State and Montani Semper Liberi. Montani Semper Liberi means translated in English, "Mountaineers Are Always Free". West Virginia is also 1,500 feet above sea level, which makes it the highest above sea level state, which is located just east of the Mississippi River.
West Virginia is one of those very historical states that has a lot to offer tourists. Some very popular tourist sites do include New River Gorge Bridge, Harpers Ferry National Historical Park, as well as countless other state parks. It is also the home of the Green Bank Telescope that is at the National Radio Astronomy Observatory. Another popular site is the Trans Allegheny Lunatic Asylum. This place has been designated as being a National Historical Landmark.

West Virginia is indeed a state that offers so much to visitors. For young and old, it is definitely a place to come to, for true discovery. So, come one, come all, to discover Appalachia y'all!


Official West Virginia Travel Guide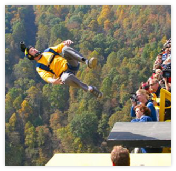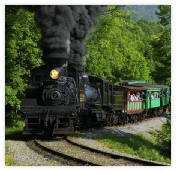 Eighty percent of the state is forested. Almost a million acres in the Potomac Highlands lie within the Monongahela National Forest. The state has more than 1.6 million acres of state and national park lands, forests, and wildlife refuges with great opportunities for camping, hiking and other pursuits. Visit West Virginia and experience for yourself the wild and wonderful natural resources that people living here experience every day. State Parks List with link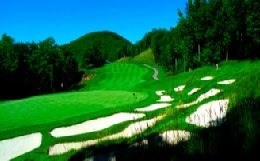 America's first organized golf club became established right here in West Virginia. Since then, golfing in the Mountain State has grown to include approximately 100 courses that offer challenging greens, tough shots and breathtaking vistas.


West Virginia offers a wide variety of mountain cycling experiences, both on the highway and off road. "Beautiful and challenging" best describes the hundreds of miles of West Virginia's roadways that are available to the adventurous cyclist.
Road Cycling - In West Virginia, beautiful scenery lies around every bend in the road. Perhaps that is what makes it an ideal cycling destination. The mountains provide challenging climbs and scenic rides while the valleys and farmlands make for ideal touring. Many races throughout the year offer great opportunities to experience the best rides.
Mountain Biking - West Virginia has been hailed as a world class destination for mountain biking enthusiasts due to the abundance of trails, beautiful scenery, and variety of terrain. From the miles of trails traversing the 900,000 acres of the Monongahela National Forest to the 76 miles of the Greenbrier River Trail, a world of mountain biking excitement is waiting in West Virginia.
Road Cycling Events - To find out more about road cycling events and riding routes, check out the Mountain State Wheelers Association website: www.mountainstatewheelers.org.
Mountain Biking Events and Races - The West Virginia Mountain Bike Association hosts events and races across West Virginia. To find more mountain biking events and races, visit the West Virginia Mountain Bike Association website: www.wvmba.com.

Enter a Discount Code
Car Rental Company: